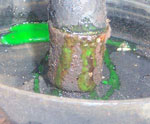 The displacer units which provide both spring and damping are quite long lasting and trouble free but if the more vulnerable components are allowed to deteriorate then leaks can begin and ultimately the system will fail. It is quite easy to inspect the front displacers and the hoses/pipes in the engine bay, and to a large extent, the pipes running underneath the floor of the car are readily accessible.
But the displacers at the rear are a different story.
Mounted horizontally within the rear subframe, inspecting them is not all that convenient. This is unfortunate as their location makes inspecting them all the more important as mud and gravel can accumulate where the flexible hose enters the unit. After some time the metal collar on the hose will begin to rust and eventually fluid will begin to leak until the joint fails.
Since the position of the rear displacers is less accessible than the front ones, a failure of a rear displacer is more awkward to fix as it can require the removal and dismantling of the rear subframe - unlike the front displacers.
It is possible to replace a rear displacer without removing (and dismantling) the subframe - but only if you have access to a Hydrolastic Pump that can induce a vacuum as you need to make the displacer retract up inside itself in order to extract it from the subframe.
The arrows in the diagram above show the area to check and clean.