BMC's success with the 1100 created a demand for toys and models of it.
British toy makers such as Meccano (Dinky) and Tri-ang (Minix) seized this opportunity and as early as 1963 Dinky models appeared in British toy shops. Since the Morris 1100 was the first BMC 1100 released in the UK, both Meccano and Tri-ang modelled their toys on this version.
A few years later, in 1966, Lesney released an MG 1100 as part of their Matchbox 75 series.
Obviously there were many others too but these are the most commonly found in Australia.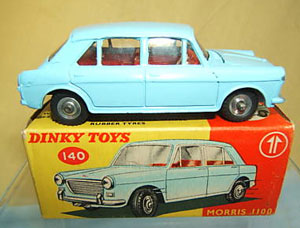 Dinky Toys #140 - Morris 1100
This model was made in England (Liverpool) from 1963-68 by Meccano Ltd.

The model came with pale blue body and red interior. A cream coloured body is claimed to have been available, although I have never seen one.

It was built to a scale of 1:34 which makes it about 9cm (3½ Inches) long - an ideal size for younger children...

Many examples can still be found but most show signs of an active life as a toy. While this might be disappointing to collectors, it shows that the 1100 brought joy even to those not old enough to drive a full sized one.

However, due to the robustness of the die-cast metal body, many battered examples (known as "play worn") have been repainted or restored by model enthusiasts and not always to the original blue.
Minix RC2 - Morris 1100

This model was made in England from 1964 by Tri-ang Rovex Ltd at their Margate factory in Kent.

Since Tri-ang had a significant business in the manufacture of model trains, when demand for accessories arose they designed a range of model cars to complement their trains. This meant the cars were made to 1:76 scale to be compatible with the OO-gauge trains, and at just under 5cm ( 2 Inches) long they are dwarfed by the Dinky 1100!

In fact, Tri-ang only began making Minix cars in 1964 and released four models initially:
RC1 - Ford Anglia
RC2 - Morris 1100
RC3 - Vauxhall Viva
RC4 - Triumph 2000

Being simply an accessory, these model cars needed to be inexpensive and were therefore moulded from plastic. This allowed a variety of colours to be produced and the Morris 1100 version was available in about a dozen colours including white, black and maroon.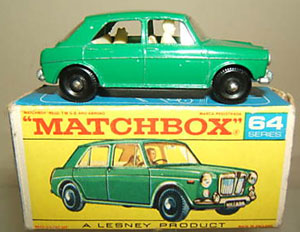 Matchbox #64 (1966-69) MG 1100
Manufactured in a factory in London, Lesney's Matchbox cars comprised a series of 75 models - each numbered accordingly.

When a new model was released, an existing model had to be withdrawn to maintain the number of models at 75. This was supposedly due to shop displays having 75 compartments.

It also meant that the outgoing model handed over its number to the new model. So, in 1966 the MG 1100 took over number 64 from a breakdown truck.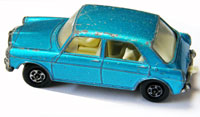 Matchbox #64 (1970-71) MG 1100 superfast
Throughout this period Lesney were improving their models due to intense competition and in 1970 it was number 64's turn to be upgraded to Superfast wheels and suspension. Not only that, but it received a classy new metallic blue paint job as well!

By this stage the BMC 1100s had been upgraded to MK2 however, perhaps predictably, the Matchbox model still retained the Mk1 tail lights. Finally, in 1972, it handed over number 64 to a "Slingshot Dragster"!