Solution: Unfortunately there are many possible causes for this one and solving it can involve thorough and time consuming checks of the ignition and fuel systems. As the fault only occurred with the engine under load it was virtually impossible to induce the fault with the car stationary.
So the carburettor was serviced, with no improvement. The fuel pump was checked and deemed healthy, leaving the ignition system.
All spark plugs were equally covered in carbon giving no clues... Like the spark plugs, the distributor cap, rotor and leads had all been recently renewed - but just to eliminate them I substituted those from another car...quite unexpectedly that solved the problem. So to pinpoint the faulty bit I began to remove the leads from the original distributor cap in order to try them one by one.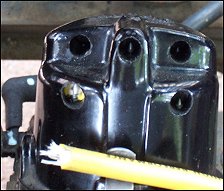 They were the type that are held in by screws and I discovered that one appeared to have been ripped out of the cap and simply pushed back in without undoing the screw and removing the torn off piece of lead. As the leads are a tight fit in the cap it was not obvious that this particular lead was not screwed in - but it proved to be the cause of the problem.
I later remembered that the problem first occurred shortly after I had someone else do some work on the car... they must have snagged the spark plug lead. So I guess the lesson here is that just because a part looks new doesn't necessarily mean it can't cause a fault.