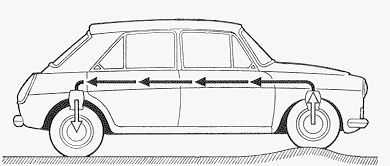 Many years later I discovered that it referred to the Hydrolastic Suspension. The Morris 1100 floats on fluid by means of interconnected rubber balloons filled with a solution of equal parts alcohol and water, plus corrosion inhibitor and green dye.
When the front wheels hit a bump, fluid is displaced from the front balloon into the rear one causing the rear suspension to rise about the same amount as the front, thus keeping the car level. Conventional suspensions using metal springs and dampers (shock absorbers) cause a car to "pitch" first to the rear as the front wheel rides over the bump and then to front as the rear wheel does.
The Hydrolastic Suspension does not require separate dampers and, apart from an occasional "pump-up", requires little maintenance as the system is generally reliable and durable.