1964 Car of the Year
The Wheels Magazine Car of the Year Award was only in its second year when it was awarded to BMC in 1964 - the inaugural award was made in 1963 to Renault for the R8.
The award continues to be made each year though it's criteria has been adapted over the years to ensure the award remains relevent in an ever changing industry. It was withheld in 1972 and 1979 when no car released in Australia during those years was judged to satisfy the criteria - including the Marina in 1972. Interestingly, it was awarded to Leyland in 1973 for the P76.
The award was originally conceived to give local car makers something more to strive for than simply the most sales. Cars eligible for consideration in 1964 had to be wholly made in Australia or assembled here from imported components and must have been announced in Australia in the 12 months prior the the award announcement.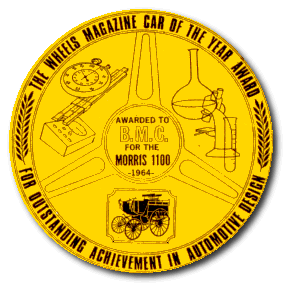 Wheels summed up its decision in 1964 as follows:

"As its 1964 Car Of The Year, WHEELS Magazine has selected the British Motor Corporation's Morris 1100. Few cars apart from its baby brother, the 850, have made such an impact on the Australian motoring public. The 1100 has been bought by people aged from 17 to 70; it has been bought for fun, for work, for its interior room, its functional nature, its looks, its ride and its handling. Its winning this year's award is an incidental recognition of the immense work done by the British Motor Corporation in building up its part in the Australian motor industry from an extremely low ebb to its present state of excellent health."
Wheels Magazine.