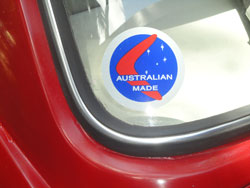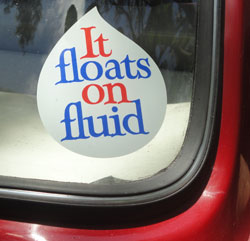 The famous "it floats on fluid" stickers have been unavailable for many years and as the originals were simply water-slide transfers applied to the inside of the glass, they were not intended to be long lasting and quickly faded and disintegrated from exposure to the sun.
However, using the remnants of some original stickers, it has been possible to produce a limited run of accurate reproduction stickers. These have been screen printed on to durable vinyl and, like the originals, are applied to the inside of the glass for a truly authentic appearance.
Also available are the circular Australian Made stickers with the boomerang and southern cross. These reproduction stickers are slightly larger (90mm diameter) than those originally fitted by BMC but are accurate in every other respect and, like the teardrop stickers, they are durable vinyl and applied to the inside of the glass. These were also found on the Mini 850, deluxe, Mini-K, Austin 1800 and Morris 1500/Nomad.
---

Another sticker unique to the Aussie 1100 is the "Fireflash" rocker cover sticker. These were printed on heat resistant material and appeared on 1,098cc motors from the beginning of production until sometime in 1966.
These are no longer available.