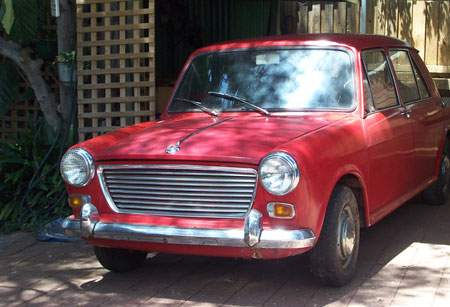 1964 Morris 1100
This early 1964 model was discovered during October 2001 languishing beside a house in the Sydney suburb of Eastwood. It had apparently been bought from a wreckers yard in 1995, because of its sound body, as the basis of a project (which never really got underway) and it hadn't moved since.

Its upholstery was complete and in sound, original condition - consistent with the speedometer's 49,831 miles. The warning lamps show no sign of fading which, together with the suppleness of the upholstery, suggest the car has spent the majority of its life sheltered from the sun.

The body number places the car within the first few months of Australian production. This along with the striking (and rare in Australia) Tartan Red paintwork and Slate Grey upholstery featured in the original sales brochure, was what led to its rescue and its subsequent and ongoing refurbishment.