A car with enough room for you, three of your heavier friends and all their gear.
A car fitted with disc brakes and safety belts as standard equipment.
This is your kind of car.
This is the Morris 1100
Made by BMC whose Dealers make your kind of trade-in deals.
See one soon.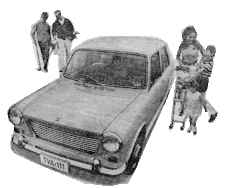 A boot you don't have to be a weight lifter to load just
open it up and slide the parcels in.
And a petrol consumption that won't put a dent in the budget.
Try a Morris 1100 soon.
In the colour of your choice.
At any BMC Dealer.



Morris 1100 De Luxe-$2,059.00
Morris 110O S -$2,136.00
Morris 1100 Automatic-$2,327.00
Prices slightly higher in some country, areas.