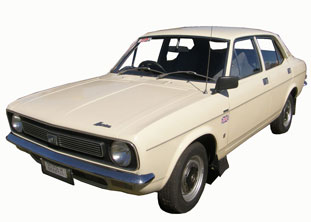 It has often appeared in those mildly humorous lists of "Top Ten worst cars" that crop up from time to time but without Leyland Australia around to defend its products, it has been an easy target - some have even criticzed its name.
The Marina was certainly not perfect, and since it was designed on a tight budget and in an tight timeframe (2 years 11 months), it would be unreasonable to expect it to be perfect. As well as that, it arrived at an awkward time for its maker and into a market saturated with competent small cars.
Interestingly though, one of its most successful rivals, the Datsun 180B, was not considered as competent as its sales figures might suggest. When it was superceded by the Datsun 200B in 1978, one motoring magazine ran a headline: "200B - a 180B with 20 more mistakes!"
To see the Marina through the eyes of the Motoring press in the seventies, here is a brief list of the points that they noted at the time. The Good Points:
OHC engines, smooth, torquey performance
roomy boot
6cyl feels less front heavy than either of its main rivals
fairly direct steering, commendably light and modest turning circle.
sports steering wheel (where fitted)
comfortable seats
good rear legroom
column mounted stalks are excellent
eyeball fresh air vents and vent windows
non-controversial styling
Trim and upholstery give feeling of quality
whole front seat moves forward on 2 door models for access to back seat
automatic transmission
light and quick window winders
The Bad points:
brakes: pedal mushed spongily to the floor
ride on rough roads: whole dash panel and windscreen shook visibly
3 speed gearbox: no thing of joy but does the job
outdated suspension
rear seat head room limited in coupe
windscreen wipers lift off at 100km/h
very noisy starter motor
handling: safe but dull