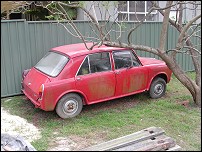 This early 1964 model was discovered during October 2001 languishing beside a house in the Sydney suburb of Eastwood. It had apparently been bought from a wreckers yard in 1995, because of its sound body, as the basis of a project (which never really got underway) and it hadn't moved since.
Its upholstery was complete and in sound, original condition - consistent with the speedometer's 49,831 miles. The warning lamps show no sign of fading which, together with the suppleness of the upholstery, suggest the car has spent the majority of its life sheltered from the sun.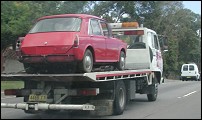 The body number places the car within the first few months of Australian production. This along with the striking (and rare in Australia) Tartan Red paintwork and Slate Grey upholstery featured in the original sales brochure, convinced me to attempt the restoration.
Some soapy water was all that was needed to remove the moss and dust before being winched onto the tow-truck for the short journey home.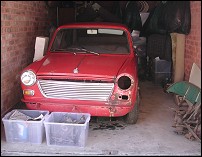 And in a dry garage the restoration begins with a stock-take of parts needed, some investigative cleaning of the trim and surface-rust removal.
After several weeks of hot summer weather, the inside of the doors were completely dry and could be treated with rust prevention sealant. The floor too has been sanded, sealed and repainted.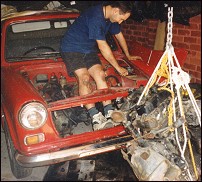 After several unsuccessful attempts to replace the engine mounts with the engine in place, an engine crane was obtained and the engine removed. With the engine out, I spent some time cleaning and refurbishing the engine bay and sub-frame - thankfully no nasty surprises here, all sound metal.
Meanwhile the engine, which is believed to be in good running order, will be checked over and thoroughly detailed ready for reinstallation.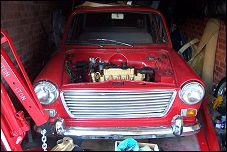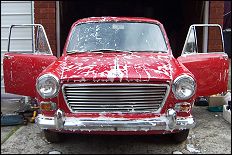 As the project has taken rather longer than expected and the garage must soon be vacated, the engine is put back in but not actually connected up. The grille and lights are reinstalled and finally: the resprayed bonnet.
The brakes are bled and the car is prepared for its trailer-journey to its next home.
Months of sitting in a garage while the engine bay was refurbished had kept the car dry but it had become covered in dust... a few soap bubbles later and the car looks very presentable.