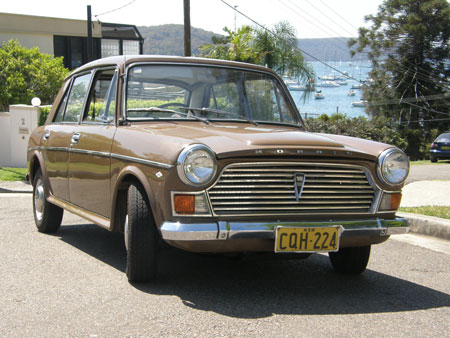 Morris 1500 LP O/D5
Although CQH224 was built in August 1971, it was one of hundreds of cars that sat outside the Sydney factory until the massive clearance sale in November that year.

On 17th of November it was sold by Lancaster Motors of Parramatta, NSW and remained with its first owner for 29 years.

Regularly serviced and well cared for during that time, the car survives today healthy and well preserved. Its original green upholstery is in superb condition.

The Luxury Pack (LP) specification included full carpeting, faux woodgrain dash finish and gear knob, individual front seats and, on the outside, stainless steel strips along both sides. The car also came with the O/D5 5-speed gearbox.

Its current (and second) owner purchased it in March 2000 and has only needed to replace a displacer, brake cylinders and front wheelbearings since then - although the car is not used as daily transport.